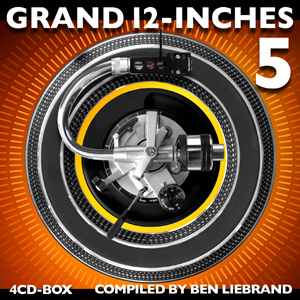 TRACK AND BACKGROUND INFO GRAND 12 INCHES 5

Special thanks to:
Hemmy Wapperom for going along on this quest for perfection.

Special thanks for digging up these masters go to:
Frans vd Kamp, Lisa Kamstra, DJ Ed,
Kees Franken, Luc Bakker, Gert-Jan Hugers, Roel Spee, Paul Stellingwerff, Wendy Bouw, Arjan Rietvink, Marie from Malligator Records, David Casto, Hans Poeckling, Cerrone, Marcel Visser, Alejandro Cacciola, Sony/BMG archive and the members of Mixfreaks.

Artwork and Design by Ben Liebrand. Layout by CCFactory.
Ben's photo by Krijn van Noordwijk
CD 1 (The Funky Grooves)

1 Michael Jackson - Don T Stop Till You Get Enough 06:06
(original 12" version)
Probably one of the most loved dance tracks ever, brought to you in digital Quality
2 Brothers Johnson - Stomp 05:57
(original 12" version)
With one of the most beautifull AND most difficult intro's to mix, Stomp was one of the highlights of my early DJ career. This track more than many other conveys that exact feel of a time long past.
3 Cameo - Word Up (Extended Version) 05:56
Pure electro funk, with pounding bassdrum and slapping claptrap. unlike many other tracks from this style, this one stands the test of time.
4 Rick James - Glow (Album Mix) 05:42
Brought to you in the album mix as the 12" version + reprise was unfortunately not to be found. A vinyl transfer didn't do the quality justice so therefore this version instead.
5 Mary Jane Girls - In My House 05:03
(original 12" version)
Another track Wriitten and produced by Rick James with the beautifull vocals of JoJo, Candi, Maxi and Cheri
6 Sun - Sun Is Here 05:03
(original 12" version)
Sun was featured on a kind of double a-side 12" which featured Taste Of Honey on the other side. just listen to that bassline. brought to you in full length and master quality.
7 Ashford & Simpson - Solid (Special Club Mix) 06:17
What to do, One version had the beatifull acappella intro, the other had the full length experience. This version brings you the best of both.
8 the Floaters - Float On 11:47
Ralph , Charles , Paul and Larry bring you nearly 12 minutes of Float-time. Each member introducing himself. Probably the first attempt to speed dating. Remember that first slowdance. Bet you would have like this version back then.
9 the Chaplin Band - Il Viliero 11:59
(original 12" version)
Presented in it's full length Il Viliero takes you on an almost 12 minute trip of early dutch produced disco. Having traced the master back to the original company nothing else was left than a 7" version. This version is compiled from 2 carefull vinyl transfers from 2 copies using the DenonDL-160 Moving Coil. All pops have been removed by hand over several hours and I hope I got them all.
10 Amii Stewart - Knock On Wood (Liebrand Edit) 06:52
There are 2 12" versions, one with a long drum intro and outro, and one with a short drum intro, but where the song runs longer. This version gives you the best of both. Plus... The intro and outro are steady now. This was achieved by running a click track along the song and correcting the bassdrums and edits which where out of time.



CD 2 (From relaxed to energetic)

1 Lionel Richie - All Night Long 06:20
(original 12" version)
Very tough to mix this one but it sure is one of the most relaxed summertunes out there.
2 Diana Ross -I M Coming Out (Original Chic Mix) 06:00
It appears that Ms. Ross initially wasn't very impressed with the work Niles and Rodgers. The song nevertheless became a classic and this is their alternative mix.
3 the Rah Band - Clouds Across the Moon 06:49
(original 12" version)
Probably composed after seeing 2001 A Space Oddyssey this song was something out of the ordinairy, with a story told about interrupted long distance interstellar communication complete with voice-overs and sound effects.
4 Stargard - Which Way Is Up 06:45
(original 12" version)
Although provided as a master form the record company, I suspect it to be a vinyl transfer. However, it sounds fine and I included it.
5 Mcfadden & Whitehead - Ain T No Stopping Us Now 07:02
(original 12" version)
Another one that sets your mind right back to those days, Ain't no stoping this one. There are longer version out there, but none to be found in the quality of this one. And if the sound is no good, what use are the extra minutes?
6 Marvin Gaye - Sexual Healing Suite (Liebrand Edit) 09:24
I've been looking for the right 12" version for years and as it turns out, there isn't one. So I made it myself from the vocal and instrumental master versions which were available. It has a nice drum intro and even a drums only break and now lasts over 9 minutes. This version is has it's first exclusive appearance o Grand 12 Inches 5
7 Soul Ii Soul - Back To Life (12" Version) 07:39
Odd to hear a newer track here? No it isn't, as these are the tracks that influenced my carreer and obviously that evolution did not stop as soon as the early 80's
8 Advance - Take Me To the Top 06:17
(original 12" version)
Yes, this is from Italy, produced by the men who also brought Fun Fun to the dancefloors. Alvaro Ugolini and Dario Raimondi are responsible for this American sounding funky tune.
9 Patrick Juvet - I Love America 13:58
(12" version)
Patrick expresses his love for the states in a musical trip around the states, Transfer by Frans vd Kamp.
10 Peaches & Herb - Shake Your Groove Thing 05:35
(original 12" version)
Energy, energy, energy, shake it, enough said!


CD 3 (Pure Disco)

1 Cerrone - Love In C Minor (Albummix) 16:20
Disco Masterpiece by the man who invented it. 16+ minutes of sensual drums, vocals, strings and ladies.
This version is directly from the archives of Cerrone and comes as is, processing and all.
2 Frantique - Strut Your Funky Stuff (Liebrand Edit) 06:15
Again a difficult choice, should i take the longer version, or the version that's simply better and has a usefull intro and break. It turned out to be the best of both, giving you an exclusive edit with extended intro and break, and an extra check if the drums were running steady in the intro and break.
3 Andy Williams - Love Story (Where Do I Begin) (Long Version) 09:42
(original 12" version)
A very rare 12" here presented in master quality and full length. Even Sony couldn't remeber that there indeed had been a 3" CD which contained it back in the 80's.
4 Womack & Womack - Teardrops (Extended Remix) 07:41
Classy dance track, simply enjoy!
5 Jeff Wayne - the Eve of War (Long Version) 07:00
You mean the album version....No not the album a special remix! You mean the Ben Liebrand remix? No... a special disco remix made in 1978 by Steve Thompson! Are you sure?? Yes I'm sure and after we found the matching catalog number it could finally be included on Grand 12 Inches 5!
6 Earth Wind & Fire - Thinking of You (12" Version) 07:56
One of the few special 12" versions we didn't have yet.
7 Gary's Gang - Keep On Dancin 07:09
(original 12" version)
Took some time to figure out were it could be licensed but here it finally is, one of the ultimate disco classics in full length master quality.
8 the Three Degrees - the Runner (Long Version).Aif 08:11
I was as disapointed as you that I couldn't find the right version for the previous edition. I did come across a decent vinyl transfer which appears to be the only thing left as nobody was able to find a master in any of the archives. So here it is in close to 100% perfect quality.
9 Jocko - Rhythm Talk 07:14
Taking the instrumental version of "Ain't no stoppin' us now" Jocko raps along in the style of the very first sugarhill gang records. A pity he doesn't take a shor break for a short break as ther is no way of mixing out of this one once he's started.



CD 4 (Alternative, Pop and more)

1 Cock Robin - the Promise You Made (Special Dance Mix) 06:33
Seen on enough compilations, it here appears in the full length version as it probably also appeared on the 12" promo. many of the other 12" releases featured a short mix of the same title and not the long version as included here.
2 Time Bandits - Live It Up 07:25
(US special 12" version)
Very rare long version in great sound quality made in the land of clogs and tulips.
3 Breakfast Club - Right On Track 07:13
(original 12" version)
Mid 80's dance track fequently found in the short 4:16 version, here presented in full length.
4 the Quick - the Rhythm of the Jungle 07:18
Brilliant track, happy to be able to finally include it! Great sound. Great Bassline!
5 Boney M - Rasputin (Extended Version) 07:32
What the ..... Boney M ? I know this is an extreme silly song, but it's the 2 minute drum intro I used back then and remembered all those years. Anyway it is very very rare and now you've got it too
6 Mai Tai -What Where When Who 07:56
(Rutger Kroese 12" version)
Remixed and edited by colleague Rutger Kroese one of the more hard to find 12" version of Mai Tai
7 John Miles - Slow Down 04:18
Specially for Hemmy at Sony/BMG, this somewhat shorter 12" version of john Miles. Hemmy thanks or not going crazy.
8 the Human League - Don't You Want Me 03:57
There is a vocal version which isn't long and a long version which isn't very vocal, which one to choose.This time not an edit but simply both versions in the best quality I could find.
9 the Human League - Don't You Want Me (Extended Dance Mix) 07:29
There is a vocal version which isn't long and a long version which isn't very vocal, which one to choose.This time not an edit but simply both versions in the best quality I could find.
10 Automat - Automat (the Rise, Advance & Genus) 16:53
Everybody was in their Soul outfits shaking down to the ground, Meanwhile this was also being made back in 1978. Trance in one of it's earliest forms. The one thing that bugged me for years was that the track had a lousy bassdrum which is now remedied by adding only the low end of a bassdrum to the already existing one. I've done so with the greatest care and in line with the original sounds. Hope you like it!