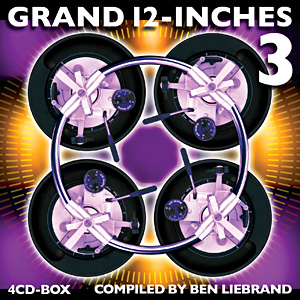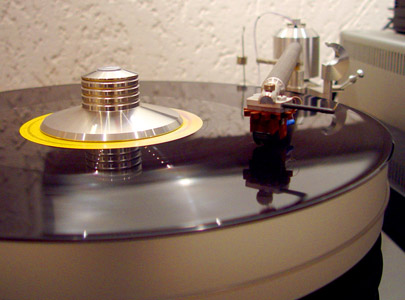 TRACK AND BACKGROUND INFO GRAND 12 INCHES 3

For this edition it proved even harder to find the right masters. Due to illegal downloads and declining sales lots of record companies are going through their worst time ever, loosing people in key positions in those companies. Not only those people leave, but their expertise is lost along with them.
The assistant today whose job it is to manage recordings and send out masters, does not have a 'frickin" clue what a master is. I was horrified to see that when a 12" master recording was requested, a 7" vinyl was sent by regular mail. Even worse was a company whose assistant just copied anything resembling the same name and same title from any CD they happened to stumble across, and so it happened that I received 1 minute 44 second masters which where taken from previous a Grandmix. Unbelievable! Copied out of a continuous mix and sent out as to be used as a master.
The worst where those companies who DO have the rights but who simply do NOT have any master whatsoever besides a crackling vinyl copy or an mp3 they downloaded from the web.

Bottom line, I managed to delay the release date twice determined to find what I was looking for.
Eventually some tracks where dropped from the list and a couple yielded no other source than vinyl. These were transferred using a Clear Audio turntable in combination with the Denon 304 Moving coil cartridge.
CD 1 (More of my roots and favorites)

1 Robert Palmer - You're in my System (Extended Album Mix) 06:00
Powerfull funky sequences and kick-ass drums made this track one of my favorites
2 André Cymone - The Dance Electric 05:35
From the "Prince" factory this extreme electric funky track in master quality for you.
3 Chas Jankel - Glad To Know You 06:37
Excellent funky guitar riffs make this track a floor filler despite the wacky vocals.
4 Suzi Lane - Harmony 06:59
Produced by my "Hero" Giorgio Moroder, Harmony features the typical "Moroder Trademark" sequencers and drum sounds. Great Stuff
5 Chaplin Band- Madmen's Discoteque 06:30
It was the Instrumental B-side which became a club hit all the way in America. This Version gives you that Instrumental version and cuts to the Vocal version running 6:30 in total
6 Janis Ian-Fly Too High 06:51
Again Moroder at work for pop-icon Janis Ian. Sequencers in triplet feel and Anonymous Autonomous Vocals to go along. Taken from the original Analog master tapes form the vaults of CBS.
7 Rah Band - Slide 06:39
Before "Clouds across the moon", The Rah Band was already on their way with this fierce instrumental track.
8 The Real Thing - Can You Feel The Force 07:39
Can you feel the force brings back memories of jumping on the dance floor to this funky uplifting track. Can YOU feel the force?
9 Anita Ward - Ring My Bell 08:12
Introducing the pieuw sound of the Syndrum to the world, this is a disco standard.
10 Boys Town Gang- Cruisin' The Streets 13:14
Starting life as B-side, this soon became the preferred track in the Keizer Karel Club. This is disco to the masses, but a lifestyle to those of that particular persuasion ;)




CD 2 (The funky grooves)

1 Positive Force - We Got The Funk 04:31
Warm funk, smooth vocals great track
2 Lakeside - Fantastic Voyage 06:12
"Square funk" is how this track feels to me, and a fantastic voyage it is.
3 Cheryl Lynn - Shake It Up Tonight 05:42
From the early days of Disco spinning the songs in The Kwien Discoteque, this track brings back memories of that huge Studio 54 style disco out in the flat country of Holland.
4 Colonel Abrams - I'm Not Gonne Let You 06:47
The follow up to Trapped, not as big but very good.
5 Crown Heights Affair -You Gave Me Love 05:52
One of my all-time favorites and fortunately not killed by over-playing it.
6 Rose Royce - R.R. Express 12:01
Join Rose Royce on the RR express. Somehow I could never find a decent point where to "get out of this track". Therefore it's a good thing it runs a full 12 minutes
7 Jerry Knight - Overnight Sensation 06:30
Funk for the connoisseur. Excellent track and favorite of many record store owners. This is one of those songs that brings me right back to that time. Not just the memories , but the whole feel of things.
8 M.F.S.B.- Love Is The Message 11:33
The Sound of Philadelphia. The vocals are a bit on the sweet side, but that groove is a winner.
9 Edwin Starr - Contact 07:15
Solid Disco with trademark hand claps, Ben is on the dance floor having a great night, actually believing that my parents didn't know we were in the disco (Clothes smelling of smoke big time). Those were the days.
10 Earth, Wind & Fire - Boogie Wonderland 08:16
The Emotions join E W & F with great vocals and up tempo rhythms.

CD 3 (More Funky stuff)

1 The Reddings - The Awakening Pt1+2 03:32
From the B-side of the "Remote Control" 12 inch, this is one of the finest pieces of bass guitar ever.
Used to test PA's in those days, the occasions where rare where I could play it to an audience.
Finally in master quality Part 1 and 2 together
2 Earth,Wind & Fire - fantasy (Blaze shelter DJ mix) 08:57
It is a recent remix, but what makes it special is that is mixed from the original multitrack using only the original sounds. This version gives you an in-depth look into "Fantasy" giving all instruments and melodies ample space to perform. Great mix!
3 Trussel - Love Injection 07:53
Funky Groove from my early years, great vocals.
4 Gene Chandler - get down 08:18
The master is noisy and although it was no problem to get rid of that noise, it did alter the track in such a way that it simply lost that authentic feel. So here it is including noise in Hi-Fi Stereo.
5 Billy Ocean - Are You Ready 06:46

6 Dynasty - I don't wanna be a freak 07:23
Used by 2 Brothers on the 4th Floor to create their first hit, this is the original 12" version.
7 Herbie Hancock - Tell Everybody 07:50
Rock steady groove, great percussion fills and a break that lasts forever with Herbie chanting along using the Sennheiser Vocoder.
8 Shalamar - Right In The Socket 06:42
Feel that electricity in this early electro funk track that simply sparks with energy.
9 Third World - Now That We've Found Love 08:16
This track is actually the very first 12" version I ever bought, it had a plain blue island sleeve and the moment I love most is when the organ solo finishes and you hear that single hit on the timbales. Something my original vinyl didn't have and this one has, is the acappella intro.
10 The Commodores - Brick house (live) 10:26
The location was juicy Lucy in Nijmegen and this track was that first "All the guys on the Left, All the ladies on the right" experience. (Also recommended is the live version of "yes we can" by the Pointer sisters).



CD 4 (Alternative + Pop)

1 Imagination - Body Talk 06:00
The band that came to fame by adopting one bass sound for all that their hits. A track simply wasn't Imagination without that trademark sound. Body talk was the first in that series and Imagination still rocks the house wherever they perform.
2 Fern Kinney - Groove Me (long version) 08:54
Sequencers, synthetic percussion and a vocal line so "over the top" sweet that it actually works. Add to this the long break and you have yourself a Grand 12"
3 One Way ft Al Hudson - You Can Do It 07:03
This track sparked a whole series of songs featuring a clever organ line that pushed the groove along in 8th's tempo. Rod's Shake it up (do the bugaloo) is another example of this style.
4 David Bowie - Let's Dance 07:39
Being a Bowie fan from the start I never could get my hands on the 12" master of this one, so here it is straight form the archives of EMI.
5 Fox The Fox - Precious Little Diamond 07:27
(Ben Liebrand 12" version)
Released in the same year as Michael Jacksons - Thriller, this 12" version edited by myself, outsold the Thriller 12" in Germany. Thriller sold a whopping 85000 12" versions. My 12" version of Fox the Fox made a 115000 copies :)
The master is taken digitally from the original edited tape and this is as true to the real thing as one can get.
6 Fun Fun-Happy Station original 12" 07:16
Happy station was the first hit for Fun Fun and even became a bigger hit due to my scratch version. That scratch version appears more frequently therefor I present you here the "rare" original 12".
Dario Raimundi told me they fed the trigger for the cowbells through a standard cassette deck and simply messed with the recording levels to generate that random 16th feel cowbell pattern. Whenever they increase volume triggers where passed through and cowbells where heard in 16th pattern.
7 Tavares - Heaven Irresistible Angel Mix 08:35
As far as I know this is the very first time this remix appears in master quality. It was made for a compilation cassette and wasn't even pressed on vinyl. This master is taken digitally from the original edited tape and this is as true to the real thing as one can get. The voice of "sky bird" is performed by Bernard Oattes of "The Limit".
8 Liaison Dangereuses - Los Ninos del Parque 05:01
Crazy 6 beat sequencer with crazy vocals to match slamming out of the speakers in the Keizer Karel Club in Nijmegen. Thank god my audience was just as crazy as I and had enough trust in their DJ to accept was what thrown at them. Those where the days.
9 Talk Talk-It's a Shame 07:01
A true Grand 12" with practically more break than song. Great percussive sounds echoing syncopated and aerie sounds to complete the mood.
10 Faithless - Salva Mea (Epic Mix) 11:52
What can I say, I just love the track.
It might not be what you expect amongst these other Funky and classic tracks, but this is a future classic and an inspiring Grand 12 Inch to me..